My sister introduced me to Jonathan Livingston Seagull some thirty odd years ago. For all its faults and simplicities I found it powerfully moving and went to see it at the cinema more than once. It describes the search of a lonely seagull who believes there's more to life than food and tries to discover perfect flight as well as others who think alike. I still find it powerful and the film, clunky as it seems now, is fantastic. The soundtrack is also the only Neil Diamond album I've ever bought. Bach wrote a lot of books, and the autobiographical are quite ordinary compared to the fantasy. "Illusions: The Adventures of a Reluctant Messiah" includes this helpful quote in the Messiah's manual:
Everything in this book may be wrong.
I love the willingness to have such faith and uncertainty simultaneously. Isn't that part of life?
Stephen Baxter's Flood, which I don't own, is one of the most depressing dystopias I've ever read. You wait for the cavalry to arrive and they don't.
I finally read the Simone de Beauvoir books that I took from my grandmother's shelf when she died. I'd always meant to read them and never got round to them. I've got rid of a couple of them but they offer an interesting insight into a very particular world and culture.
I read the sequel to Edward Bellamy's Looking Backward, Equality, in the British Library when I was 15. Looking Backward is a futuristic utopia when the hero goes to sleep and for various reasons doesn't wake up for over a hundred years. The book carefully explains how the perfect future came to pass and its sequel goes into further socio-economic analysis that becomes quite dull. On publication in 1888 Looking Backward sold over a million copies in a few years, one of the highest selling books ever.
I only have three of the Bronte's which considering my grandmother and mother were totally obsessed with them, is really quite poor. I have read the full set and have visited the parsonage.
Terry Brooks on the other hand writes fantasy that ranges from the childish to the superb. His best series, the Word & the Void, I do not possess as I stopped buying his books when they got repetitive although they remained enjoyable.
I collected quite a selection of John Buchan who wrote so much more than the Thirtynine Steps, his most famous book. He covered Scotland and South Africa with tales of spies and adventures, most contemporary and some historical. There was also an element of the supernatural and seeing into the future as well as the more sensible concern about the dramatic social changes he saw in his lifetime. He was quite modern in his political outlook and as well as his fiction wrote a number of histories and biographies which I haven't yet investigated.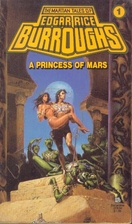 Edgar Rice Burroughs rounds off the 'B's with his completely mad fantasy series set in Mars, or Barsoom as he called it. Our hero, John Carter is magically transported to Barsoom where he meets, saves, woos and saves some more the Princess Dejah Thoris and is then transported back to Earth at the end of each book. I read these as they were a focal point of "The Number of the Beast", by one of my favourite authors, Robert A. Heinlein. John Carter makes Conan the Barbarian look like a wimp.